News
Radical cystectomy - video information
If your recommended treatment is having a radical cystectomy with either conduit/stoma or neobladder reconstruction, the Royal Berkshire Urology team and bladder cancer patients have recorded seven short videos that explain the procedure, options and life after surgery. You can see the videos here:
November 2019
If you wonder what we spend our raised funds on, here's our trustees Maureen, Ken, Tony and Rob presenting a cheque for £3000 to the lovely, caring nursing staff in Hopkins Ward, Royal Berkshire Hospital for the purchase of mobile air conditioning units as it gets very warm in there, as we all know!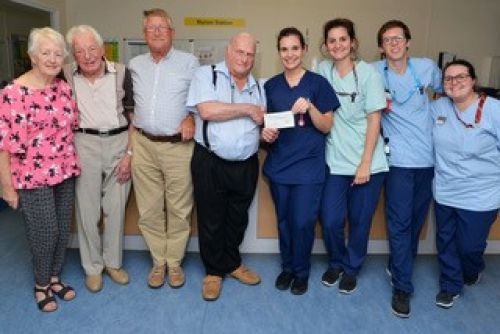 January 2019

We are immensely grateful to the Mayor and Lady Mayor of Wokingham for their tireless efforts during 2018 in support of the Reading Bladder Cancer Support Group. As a result of their fundraising, we have benefited by over £9,000!
What's on in 2020
MARCH - MEETING CANCELLED (Corona virus precaution+
APRIL - MEETING CANCELLED (Corona virus)
MAY - Meeting under revue (Doubtful)
JUNE - Meeting under revue
October
Quiz Night & Race Night TBC