News
April 2022
We are proud to announce that Mark Richards will be representing the Reading Bladder Cancer Support Group Trust in the London marathon this year. Here is a message from our London marathon runner...
Hi, Iím Mark Richards, Iím 50 years young and I have been given the honour to representative the Reading Bladder Cancer Support Group Trust in the 2022 London marathon. Tony Dunbar (One of the trustees of the Reading Bladder Cancer Support Group Trust) is my father-in-law, and I have been happily married to his daughter for the past 23 years and we have three beautiful children.
Iím a team manager for Waitrose and has actually worked for them for over 30 years! I started running about eight years ago after I was diagnosed with type 2 diabetes. Running not only helps me with my health but it also acts as great stress reliever.
Previously I have run half marathons and two full marathons. The second of these was the virtual London marathon in 2020.

To train for the upcoming London marathon I will need to put in some serious training miles, and it is going to be hard work however it will totally be worth it knowing I will be raising money for this great charity!

If you would like to sponsor Mark in his quest for glory (remember Mark, pain is temporary, glory is forever!), please visit
https://tcslondonmarathon.enthuse.com/thereadingbladdercancersupportgrouptrust/profile

December 2020
We have recently donated £2000 to local beneficiaries at the Royal Berkshire Hospital.
£1,000 has been donated to the Berkshire Cancer Care centre located at the Royal Berkshire Hospital. The Berkshire Cancer Centre is one of two cancer centres in the Thames Valley area, providing cancer services to people across Berkshire and areas of South Oxfordshire. They supply chemotherapy, radiotherapy and palliative care services and offer support for patients and their relatives via their Macmillan information centre.

£1,000 has been donated to the Harold Hopkins Ward which specialises in the care of patients with urological care needs at the Royal Berkshire Hospital. The aim is to provide suitable treats to the patients and staff over the festive period. Unfortunately we have been advised that due to infection control we are unable to have a Christmas tree and decorations on the ward this year, and even chocolates and treats for patients and staff have had to be quarantined prior to being given out. We are hoping that 2021 will hold a different prospect and we will be able to purchase a new Christmas tree, lights and decorations for next year.
Radical cystectomy - video information

If your recommended treatment is having a radical cystectomy with either conduit/stoma or neobladder reconstruction, the Royal Berkshire Urology team and bladder cancer patients have recorded seven short videos that explain the procedure, options and life after surgery. You can see the videos here:
November 2019
If you wonder what we spend our raised funds on, here's our trustees Maureen, Ken, Tony and Rob presenting a cheque for £3000 to the lovely, caring nursing staff in Hopkins Ward, Royal Berkshire Hospital for the purchase of mobile air conditioning units as it gets very warm in there, as we all know!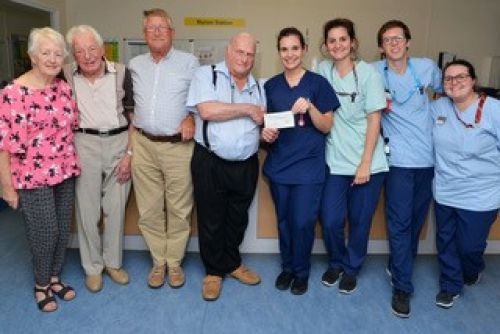 January 2019
We are immensely grateful to the Mayor and Lady Mayor of Wokingham for their tireless efforts during 2018 in support of the Reading Bladder Cancer Support Group. As a result of their fundraising, we have benefited by over £9,000!